Charles Guillaume Rdam 

Edit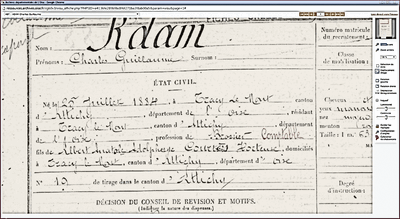 Charles Guillaume Rdam est né le 25 Juillet 1884 à Tracy Le Mont dans le département de l'Oise, il était comptable.
Il a été nommé caporal le 19 septembre 1906, a été mobilisé le 4 août 1914 et a été classée service auxiliaire le 28 mai 1915 pour une blessure sur son avant-bras gauche, il a été atteint. Une balle a touché son medius. Il a eu une atrophie musculaire et une paralysie.
Il a également été blessé le 14 septembre 1914 et hospitalisé à l'hopital de Bergerac du 15 septembre 1914 au 30 novembre 1914.
Après il a été intégré au 54e régiment d'infanterie de Compiègne.
Car il n'était plus dans la possibilité de se battre, Charles Rdam a été intégré à la deuxième légion de gendarmerie en tant que gendarme auxiliaire.
Fiche faite par Yohann Pain, élève du Collège Jacques Monod Compiègne.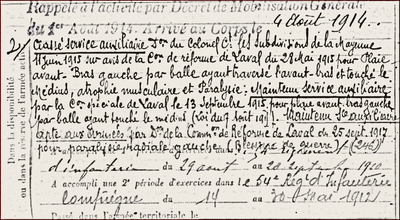 Charles Guillaume Rdam was born on the 25th  of July of 1884 in Tracy Le Mont in the departement of Oise, he was an accountant.
He was appointed corporal on the 19th of september 1906. He was was mobilized on the 4th of August 1914 and was classified as ancillary service on the 28th May of 1915 because of a wound on his left forearm where he was shot. A bullet shot through his middle finger which left him with muscular atrophy and paralysis in the arm.
 He was also wounded on the 14th September 1914 and was hospitalized at the hopital in Bergerac from the 15th of september 1914 to the 30th  november of 1914.
After, he was assigned to the 54th  regiment of infantry of Compiègne.
Because he could no longer  fight, Charles Rdam was assigned to the second legion of gendarmerie as an auxillary gendarme