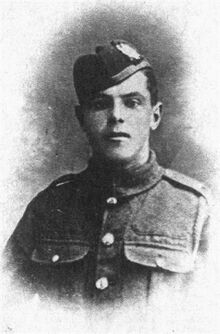 James Murray Mackay 1898-1918
Edit
James Murray Mackay (Jimmy) was born 29 October 1898 in Brora, Sutherland, Scotland. He was the eldest son in the family. He worked in a shop before he was called up at the age of 18. He served as a Private in the 2nd Battalion of the King's Own Scottish Borderers. His military number was 33075. He served in Italy and France in the machine gun section. He died of wounds 9 September 1918 when he was only 19 years old. He is buried in St Sevres Cemetery, Rouen, France.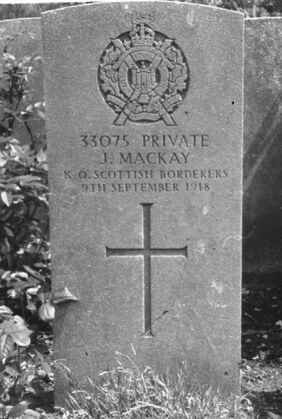 Obituary Edit
Northern Times 19 Sep 1918 Edit
Private James Mackay, Brora
We regret to announce that Private James Mackay son of the late Mr William Mackay, plumber, Brora and of Mrs Mackay, Rosslyn Street, Brora died on 9 Sept from wounds received in action. Deceased was a member of the King's Own Scottish Borderers and acted as one of the most efficient of the young men in the machine Gun section. Before he joined the army he was in the shop of the Trustees of the late Mr Kenneth Gordon, merchant, Brora. His death falls as a blow of exceptional severity upon his mother. Her husband was mobilised on the outbreak of war and after about 2 years' service in France was invalided home and passed away recently. After her husband's death Mrs Mackay's hopes were centred in her promising son and now he too has given up his life for his country.