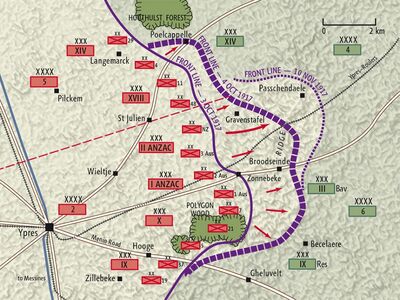 The Battle of Paschendale
Edit
The New Zealand Division made its first attack on 4 October 1917. Its role was to provide flanking cover for an Australian assault on the Broodseinde Ridge. Once again artillery played a big part in the success of the attack, which was made by 1st and 4th brigades.
The bombardment, which began at 6 a.m., caught many Germans in the front lines, causing heavy casualties and disrupting the defence.The New Zealand troops advanced 1000 metres to get to their position. More than a thousand prisoners were taken, but the attack cost more than 320 New Zealand lives, including that of the former All Black captain Dave Gallaher.
12 October As a result, the creeping barrage was weak and ragged. Some of the shells dropped short, causing casualties among the New Zealanders waiting to advance. To make matters worse, the earlier artillery bombardment had failed to breach the obstacle presented by the German barbed wire. Another key target, the Germans' concrete pillboxes with their deadly machine-guns, were also left largely undamaged.
Troops from 2nd Brigade and 3rd Brigade advanced at 5.25 a.m. in drizzle that soon turned to driving rain. As they struggled towards the ridge in front of them, they found their way blocked by the uncut barbed wire. Exposed to German machine-gun fire from both the front and flank, the New Zealanders were pinned down in shell craters in front of the wire. A few determined individuals tried to get through the barrier, but they were quickly killed.
Orders came for another push at 3 p.m., but this was mercifully postponed and then cancelled. The troops eventually fell back to positions close to their start line. For badly wounded soldiers lying in the mud, the aftermath of the battle was a private hell; many died before they could be rescued.
The toll was horrendous. There were about 3700 New Zealand casualties, of which 45 officers and 800 men were either dead or lying mortally wounded between the lines. In terms of lives lost in a single day, this remains the blackest day in New Zealand's post-1840 existence.
On 18 October. In a series of well-prepared, but costly, attacks in atrocious conditions, Canadian troops finally occupied the ruins of Passchendaele village on 6 November.