William Mackay 1872-1918 Edit
A few weeks after his seventh child was born in 1914, the war started. As William had been in the Territorials for many years he was called up straight away and went to Bedford by train, and then to France.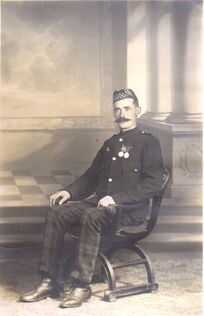 William caught TB while serving with the Seaforth Highlanders and was invalided home in 1915. For a while he seemed to get better and was able to get up. His health then deteriorated and he died on 31 Jan 1918 of pulmonary phthisis (TB). He was buried at Clyne cemetery with full military honours. His widow Jane, who must have had a hard time nursing him, as well as looking after the children, suffered another tragedy later in the year when their eldest son James was killed in France.
William and James sent presents back to their family from France. They sent the girls embroidered pictures and little twin dolls in a cradle.
Obituary Edit
Northern Times Thurs 31 January 1918 Edit
The Late Private William Mackay, Brora
We regret to announce the death of Private William Mackay, son of the late Mr John Mackay, West Clyne, Brora, and brother of Lt. Andrew Mackay, Golspie. The sad event took place on Tuesday.
From boyhood the deceased served in the Volunteer and Territorial Forces. In 1914 when the Territorial Battalion was mobilised he went with them to Bedford and afterwards to France. Being a splendid shot he was put on special duty as a sniper and in that capacity rendered effective service to his country. He was slightly wounded and sent to the hospital at Albert.
When in hospital the demand for skilled tradesmen became urgent and Pte. Mackay was transferred to the Engineers where he was able to render good service. In 1915 he was invalided home and has been on the sick list ever since. Before the war he worked as a plumber in Brora in cooperation with his brother Lt Andrew Mackay, Golspie. He was married and leaves a widow and 6 of a family, his eldest son James was called up when he attained military age and is at present serving in Italy. Sincere sympathy is expressed with the relatives in their irreparable loss.